The 4th Joint Coordinating Committee (JCC) Meeting of SFaMP2 Concludes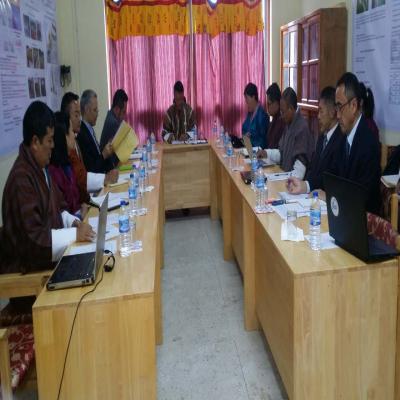 Posted on:09 Oct 2017
---
The 4th Joint Coordinating Committee (JCC) Meeting of SFaMP2 Concludes
9th October 2017: The 4th Joint Coordinating Committee Meeting of Strengthening Farm Mechanization Project Phase II (SFaMP2) of the Agriculture Machinery Centre (AMC), supported by the Japan International Cooperation Agency was conducted at AMC Paro today.
The project was initially signed on 22 April 2014 between Royal Government of Bhutan and JICA for the duration of three years from August 2014-July 2017. Based on the justifications and request by RGoB, JICA considered the extension of the project for one more year from August 2017-August 2018 to achieve the remaining targets of project.
The project consists of four major outputs which aims to realize the development of selected farm machinery standards, and test codes, awareness on importance of safety and quality of farm machinery, development of priority farm technology and provide timely and efficient farm machinery hiring services.
According to the Project Manager, Mr. Kina Norbu, most of the project activities are on track and expected to ensure the deadline. However, some of the hiring activities under project indicator are delayed due the segregation of commercial activities from AMC and establishment of Farm Machinery Corporation Ltd (FMCL) in 2016 and it is expected to achieve the targets within extended project period.
JCC is being chaired by the Hon;ble Secretary, Ministry of Agriculture and Forests (MoAF) and Director, Department of Agriculture is the Project Director. Other members include Chief Representative of JICA, Bhutan Office, and representative from Gross National Happiness Commission, representative from Ministry of Finance, project manager and output managers from AMC and FMCL. Division chiefs of Policy and Planning Division, Human Resource Division and Engineering Division from MoAF are also being involved in the meeting as observers.
All project activities are being coordinated and implemented with technical advice of short term and long term experts from JICA deputed to AMC from time to time
Reported with photo by:
Penjor, AMC