General Announcement
STRENGTHENING FARM MECHANIZATION PROJECT PHASE- II COMPLETED SUCCESSFULLY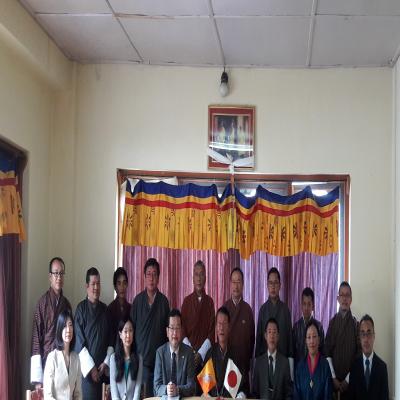 The four years project on "Strengthening Farm Mechanization Project" Phase II under support of Japan International Cooperation Agency (JICA) completed successfully on 10th August 2018 with the achievement presentation by the project manager. Dasho Rinzin Dorji Hon'ble...
Read more...
---
Views: [ 1240 ]
---
FARM MECHANIZATION AWARNESS AND MANAGEMENT COURSE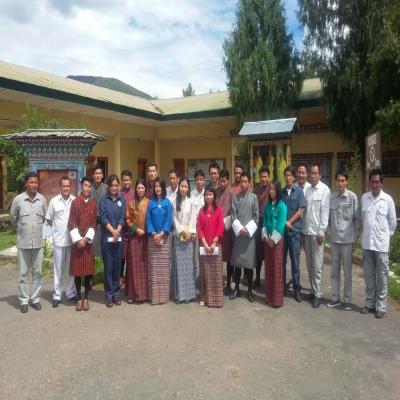 In line with approved Farm Machinery Calendar for year 2018-2019 the total of 15 Dzonkhag Focal Persons (DFPs) from Farm Machinery Corporation Limited (FMCL) are attending 10-day Farm Mechanization awareness and management course from 17th July, 2018 at AMC, Paro. The Agriculture...
Read more...
---
Views: [ 1332 ]
---
Training Calendar 2018-2019
Training Calender 2018-2019 is avaliable in the download column.
Read more...
---
Views: [ 1317 ]
---
Technical committe meeting on food grade material standards requirment
AMC presented food grade study report after comprehensively studying different internationals standards and also visiting factories within Bhutan to Bhutan Standard Bureau Technical Committee 8 ( Mechanical Engineering) on June 26, 2018. After intensive discussion on rice mill, oil...
Read more...
---
Views: [ 1323 ]
---
Japanese Foreign Minister visits AMC
On 22nd June, en-route to Thimphu on official visit, Japan's Foreign Minister Taro Kono visited Agriculture Machinery Centre (AMC). During short visit H.E. Foreign Minster Observed JICA's Technical Cooperation activities in product testing, product development, machine/tool...
Read more...
---
Views: [ 1301 ]
---
Direct seeding technology using drum seeder paves way in southern Bhutan
Mammoth cost reduction objective through direct seeding technology using drum seeders is paving ways in the cultivation method of farmers in southern dzongkhags. Samteling office of AMC had been working for the past two years to improve the technology and now the expansion programme...
Read more...
---
Views: [ 1299 ]
---
Farm Machinery Technical Training for TTI students
The first training of the first financial year in 12th FYP for AMC started with the Farm Machinery Technical Training for students from two Technical Training Institutes. Twenty five students from TTI Dekiling and Chumey respectively are participating in the 2 months technical training...
Read more...
---
Views: [ 1284 ]
---
SHORTLISTED CANDIDATES FOR FIELD ASST, ESP
As per the announcement made in Kuensel dated 10th May 2018, and re-announcement on MoAF website on dated 14th June 2018 the Agriculture Machinery Centre, Paro is pleased to announce the shortlisted candidates for the post of Field Asst. ESP as details mentioned below: Note: The...
Read more...
---
Views: [ 1234 ]
---
VACANCY RE-ANNOUNCEMENT
Applications were invited from Bhutanese Nationals between the age of 18 to 50 for the post of Field Asst. under ESP category of RCSC for the Regional Agriculture Machinery Centre (RAMC), Samtenling, Sarpang. The application should be submitted to the Regional Manager, RAMC, Samtenling/Program...
Read more...
---
Views: [ 1242 ]
---
5TH TECHNICAL COMMITTEE MEETING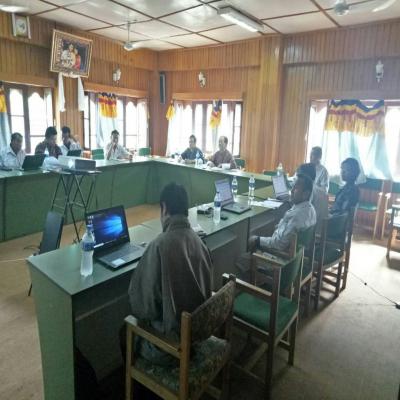 The 5th Technical Committee Meeting concluded yesterday. During 2 days meeting 8 different topics (5 topics from AMCS, 1 each from AMRS, AMTC and Monitoring and Evaluation) were discussed to thresh out the technical issues before endorsement at AMC level, Ministry level and national...
Read more...
---
Views: [ 1312 ]
---